Gertz Construction Home Renovations
We bring the same excellent craftsmanship of Gertz Fine Homes to your existing home.
Need some ideas on what to prioritize?
Since 1977 we have crafted new homes for the changing market. We worked with designers in all trades who delivered the look, feel and expression you wanted for any space.
Does energy efficiency interest you?
We have staff immersed in the minutiae who can maximize your savings by prioritizing current products, methodologies and tax credits suitable to your home.
Considering replacing your windows with more efficient construction?

We have experts look at both window and frame choices for your home to ensure the optimal R and U-value ratings are specified for each location.



Interested in more insulation but not quite certain where or how much?

Let us arrange the testing and do the probing to help you with answers to what kind, how thick, where it's most needed, and even how and whether to combine features such as sound dampening with it.



Thinking about replacing that 15 year old furnace?

We will test, clean and modify as required your existing in-house ducting to ensure it does not reduce the efficiency any new furnace brings to the system. We will seal it and make "comfort" recommendations to reduce those noisy air sounds or to better balance heat distribution between rooms.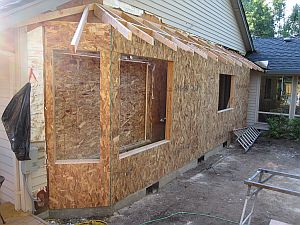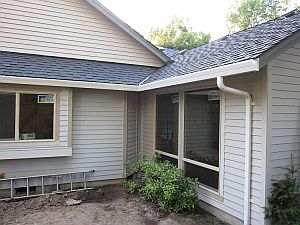 No Project is too Complicated
We Differentiate between building green and energy efficient construction:
Sometimes in existing homes the most sustainable decision, the greenest decision, is to continue using the item you have. Gertz Construction will identify these situations and suggest ways to incorporate the existing product with your new vision. We will take the time to explain the importance of each decision and how you can most benefit from them.
Wary of having your choice of surface finishes restricted

to a few selections under one roof? Cut loose and call us!! We work with many show rooms throughout the Portland area. We think the selections from any one are mildly overwhelming - and sustainable products are available from all of them. But if you don't see what you want in one, we'll head for another!

Want new, sustainable carpets that don't off-gas?

We've got them. We can show you carpets made from a mix of 70% petroleum and 30% ethanol; carpets made from recycled glass; or we can offer wool, slightly more expensive but wonderful underfoot and very sustainable.

Have you heard of "Marmoleum"?

Perfect for that new laundry floor (and for some kitchens too) this is an 'all - natural' linoleum product which is both durable and attractive - and there are many styles to choose from.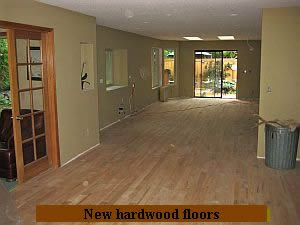 We'll do the floors... the cabinets, the countertops, the fixtures.... everything!

----------------------------------------->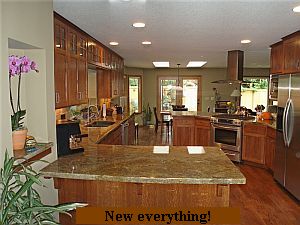 CALL US WITH YOUR REMODELING NEEDS OR VISIT ONE OF OUR AVAILABLE HOMES
TO SEE THE QUALITY OF OUR WORK AND TALK WITH A REPRESENTATIVE. WE CAN ALSO HELP WITH FINANCING.
CALL OR EMAIL US TODAY!